Welcome to Wyndstar Computer Works!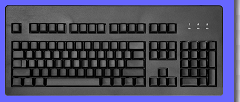 Based in Northwest Illinois, USA, we offer personalised computing, networking and tutoring services for the Dubuque, Iowa and nearby Wisconsin and Illinois areas.
Our goal is to provide your business or home with the resources you need in order to keep your computers up and running efficiently and securely.
Computers should serve us, we shouldn't have to serve computers. So at Wyndstar we understand computer technology, but just as importantly we also want to understand you: your needs, your wants, and your frustrations!

Let the Keyboard Wizard of Wyndstar work his magic and conjure a solution that works for you!